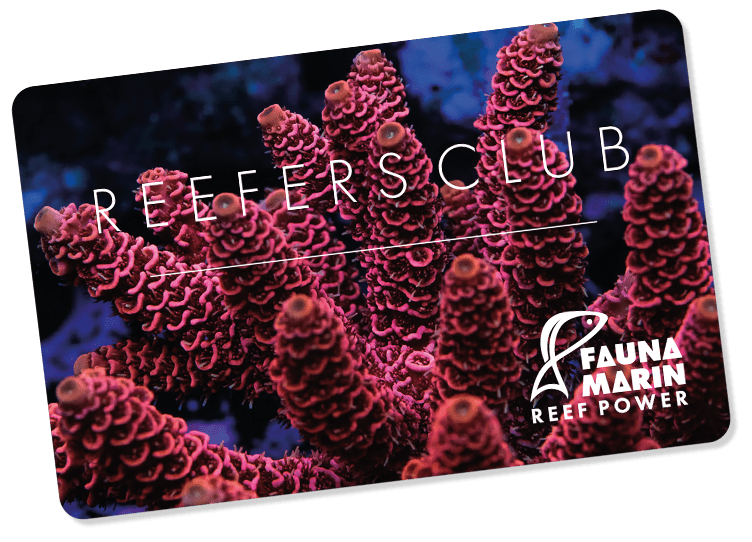 Reefers Club
Home of Reefers
The Reefers Club is a meeting place for everyone who loves the marine aquarium hobby. If reefkeeping is one of the most enjoyable activities for you, this is the perfect community for you!
Out of passion for reefkeeping, we, the team of Fauna Marin GmbH, are constantly creating new ideas, products and corals. And we regularly provide you with great products for your thriving reef tank.
We provide you with helpful advise and tell you all the secrets of professional coral propagation. We regularly introduce you to our new products, advise you on the purchase and use of our highly effective water care and feed products and are always there for you if you have any questions or suggestions for us.
Discover now the many advantages as a member of the Reefers Club
and become part of our community!
Offers and benefits
In Fauna Marin's Reefers Club, our customers benefit exclusively from numerous offers and advantages. The Club benefits in detail:

For new club customers
We welcome new faces to our community and extend a warm welcome to every new club member. Therefore, we salute new members with a little selection of products from our range and an attractive welcome gift!

Club discount
Reefers Club customers receive up to 10 %* club discount on our standard assortment on their purchases via our webshops www.faunamarincorals.de or www.faunamarin.ch,  in our retail store in Holzgerlingen or Zürich Switzerland upon presentation of their club card.

Laboratory service
Reefers Club customers receive a free ICP test four times a year by subscription!
Club customers receive preferential service for consultation and problem analysis.

New products
Our club customers are particularly interested in new products. Therefore why we present them selected new products before all other customers. Even after an order has been placed, they receive preferential delivery of the respective new product.
Monthly giveaways
We include free samples or special products with every order that is shipped to one of our club members, because we have something new every month.
Premium shipping
Reefers Club customers always receive their orders in premium shipping. For coral shipments we offer a expanded live arrival warranty of 10 days.
Online seminars
Exclusively for Reefers Club customers we produce free seminars and streams.
Rarity service
For Reefers Club members we have an exclusive store area with selected rarities and special corals – chosen by the boss himself! Here you can get hold of precious coral jewels that others will envy you for! * shortly available
The Club- a living community
Members-Workshops and Seminars/Streams
The Reefers Club is a lively community: At our repeated club meetings in Holzgerlingen and in other cities throughout Europe, we immerse deep into the world of maintaining a reef tank. Expert lecturers give you deep insight into marine aquaristics and make this fascinating hobby tangible for the participants themselves. As a Club customer, you receive participation in such seminars* and streams free of charge.
*as soon the actual situation allows this
Becoming a Club customer
Terms of contract:
If you wish to become a member of the Reefers Club, simply purchase the membership in our stores. As soon as we receive your order for the club membership, you will be registered as a member. After paying the first membership fee, you can enjoy all the benefits of the club. After joining, we will create your club card and mail it to you.
Club Year:
The club membership year always starts at the date of enrollment.
Membership term:
The club membership duration is twelve months, and it automatically extends for one year at the end. However, it can be cancelled at any time without giving reasons no later than three months before the end of a membership year. The cancellation must be sent to us in written form, a simple email is sufficient. We will then send a written confirmation of cancellation. A partial refund of the annual membership fee cannot be granted, but even after a cancellation you will enjoy the Club benefits until the end of the paid membership year.
Club Card:
Each member receives a personalized club membership card.
Savings Advantage:
The discount* of 10% is granted on all products of the Fauna Marin standard assortment when purchasing through our webshops and the retail stores in Holzgerlingen / Zürich Switzerland. Excluded are: Remaining stock mailings, special promotions and trade show promotions.
Club fee:
The annual membership fee is € 199.00 incl. VAT and is due at the beginning of each club member-ship year.
Notes:
The same membership fees apply to customers living abroad.
* Special offers and certain products may be excluded.
Reefers Club for trade and business.
As a company, you are interested in our customer loyalty programme Reefers Club? You want to use our marketing and consulting services? Then send us an email to rc@faunamarin.de. We will be happy to advise you.